Library News
For Immediate Release, March 30, 2018:
2018 SUMMER READING PROGRAM AT THE LIBRARY
The Pottawatomie Wabaunsee Regional Library is gearing up for our annual Summer Reading Program. As families begin their annual journey toward the time when there is "nothing to do", we encourage parents to remember that the Summer Reading Program at the library may be the answer! Children may begin checking out and reading books for this program on June 4th. Participants will have until the program's completion on July 28th to reach their reading goals.
The 2018 summer reading theme "Libraries Rock" encourages participants to expand their minds through reading and putting their musical gifts to work to create new and better worlds during their annual summer reading experience at the library. Children may participate at any PWRL location, including libraries in Alma, Alta Vista, Eskridge, Harveyville, Olsburg, Onaga, St. Marys, and Westmoreland. Pre-readers are invited to join the program with a parent or helper who will read to them as members of the Read-to-Me Club. Each child will be asked to check out library books at their reading level and record them to earn credit in the program. Participation in activities at the library will also be counted as part of the overall program this summer. All participants will earn prizes for their efforts.
Studies show that children who continue to read during summer vacation perform better in the fall when school resumes. The library's summer reading program provides a chance for children to keep up their reading momentum and have fun at the same time. Special activities and extra reading opportunities will be scheduled each week throughout the summer to help promote the summer reading program and give children an opportunity to exercise their creative side. Some locations will also have special reading activities for teens and adults. All programs are free and open to the public.
The Pottawatomie Wabaunsee Reginal Library will also host a Summer Food Program that will be conducted as part of the annual Summer Reading Program. PWRL, with the help of the Catholic Charities of Northeast Kansas and in partnership with the Kansas Department of Education, will be providing free shelf-stable sack lunches to children during the summer through the USDA Federal food and nutrition program. Parents or caregivers who accompany their children are also invited to take a lunch and join the fun!
Meals will be served June 4th – July 28th as part of the activities surrounding PWRL's annual Summer Reading Program. There are no income requirements or registration. Any child under age 18 may come to eat, and are also welcome and encouraged to participate in the Special Summer Reading events planned at each of PWRL's eight locations in Pottawatomie and Wabaunsee Counties.
Library staff has scheduled visits at all the primary schools in each county. Flyers and calendars are being sent home with each child. Some locations will also receive events calendars with their local utilities statements. Calendars will also be posted to the library website and on PWRL's Facebook page.
Come have lunch, play a game, attend a program, and read along with us this summer. For more information about the Summer Reading Program, or any aspect of library services, call the St. Marys Headquarters Library at 785-437-2778 or go to the Library website at http://www.pottwab.org.
-----------------------------------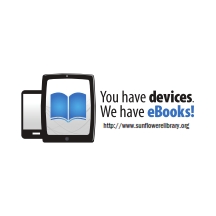 Pottawatomie Wabaunsee Regional Library Now Offers Digital eBooks and Audiobooks
Best-selling and classic titles available anytime, anywhere
Pottawatomie Wabaunsee Regional Library has expanded its services to include digital eBooks and audiobooks. Library card holders can borrow and enjoy digital media anytime, anywhere by clicking the link on the library's website at www.pottwab.org or visiting the Sunflower eLibrary site directly at www.sunflowerelibrary.org.
If you have a device that you can use to read digital content and want to try eBooks, or would like to have some new audiobooks you could listen to on your MP3 player or other device, then Pottawatomie Wabaunsee Regional Library has a great new service for you!
Users may browse the library's digital content website, borrow titles with a valid library card, and enjoy on all major computers and devices, including iPhone®, iPad®, Nook®, Android™ phones and tablets. The Sunflower eLibrary service is also compatible with Amazon Kindle devices. Titles will automatically expire at the end of the lending period. There are no late fees! If desired item is already checked out, users can place a hold. They will be notified by email when the item becomes available. Library staff can always help you if you need assistance!
PWRL has contracted with OverDrive to provide patrons with this new access to digital content through the Sunflower eLibrary. This service is available in addition to statewide access provided by Kansas Library Card digital resources, such as the 3M Digital Library for eBooks and One Click Digital Library for digital audiobooks. Using Sunflower eLibrary patrons can easily browse and check out digital audiobooks and eBooks online. Best of all the service is open 24 hours a day, seven days a week, so users are free to use it whenever their schedule allows!
The Sunflower eLibrary service is free for PWRL users with a library card. To get started enjoying digital eBooks and audiobooks visit www.sunflowerelibrary.org. Click the link at the top of the page labeled "Discover the Next Generation experience" for an overview, including a how-to video. Additional information, including a link to free software downloads, can be found by clicking the Help button on any page of this website. The OverDrive Media Console App is also available for free download from various app providers including the apple app store and the Google Play store. This app can be installed on many mobile devices and allows users to download content directly from the Sunflower eLibrary site to their device without the need of a computer to complete the transaction.
All PWRL locations, including libraries in Alma, Alta Vista, Eskridge, Harveyville, Olsburg, Onaga, St. Marys, and Westmoreland, have computers with high speed internet that patrons can use for free! If you're ready to give digital eBooks and audiobooks a try but don't have a computer or internet access you can do it all at the Library! Patrons may read or listen to eBooks or audiobooks at the Library, or bring their mobile devices and transfer checked out items to it.
This new service will allow PWRL to add thousands of popular digital items to the Library's collection. Sunflower eLibrary also gives easy access to a huge collection of free public domain titles and don't count against patron checkout limits. We are very excited to be able to offer this new option to our patrons!
If you don't already have one, come get your Library card today! Your card is the key to gaining access to the over 100,000 physical items the Library has available to borrow through PWRL's online library catalog, as well as around the clock Internet access to the new digital collection!
To explore this new resource, visit the Library website at www.pottwab.org and click the link for the service or visit the Sunflower eLibrary directly at www.sunflowerelibrary.org. For more information about the digital eBooks and audiobooks, or any aspect of library service, call the St. Marys Headquarters Library at 785-437-2778 or go to the Library website address listed above.
###