-----------------------------------------------------------------------------------------------------------
Library News
Pottawatomie wabaunsee regional library
<![if pub11]>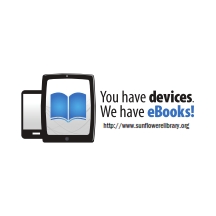 Pottawatomie Wabaunsee Regional Library Offers Digital eBooks and Audiobooks
Best-selling and classic titles available anytime, anywhere
Pottawatomie Wabaunsee Regional Library has expanded its services to include digital eBooks and audiobooks. Library card holders can borrow and enjoy digital media anytime, anywhere by clicking the link on the library's website at www.pottwab.org or visiting the Sunflower eLibrary site directly at www.sunflowerelibrary.org.
If you have a device that you can use to read digital content and want to try eBooks, or would like to have some new audiobooks you could listen to on your MP3 player or other device, then Pottawatomie Wabaunsee Regional Library has a great new service for you!
Users may browse the library's digital content website, borrow titles with a valid library card, and enjoy on all major computers and devices, including iPhone®, iPad®, Nook®, Android™ phones and tablets. The Sunflower eLibrary service is also compatible with Amazon Kindle devices. Titles will automatically expire at the end of the lending period. There are no late fees! If desired item is already checked out, users can place a hold. They will be notified by email when the item becomes available. Library staff can always help you if you need assistance!
PWRL has contracted with OverDrive to provide patrons with this new access to digital content through the Sunflower eLibrary. This service is available in addition to statewide access provided by Kansas Library Card digital resources, such as the 3M Digital Library for eBooks and One Click Digital Library for digital audiobooks. Using Sunflower eLibrary patrons can easily browse and check out digital audiobooks and eBooks online. Best of all the service is open 24 hours a day, seven days a week, so users are free to use it whenever their schedule allows!
The Sunflower eLibrary service is free for PWRL users with a library card. To get started enjoying digital eBooks and audiobooks visit www.sunflowerelibrary.org. Click the link at the top of the page labeled "Discover the Next Generation experience" for an overview, including a how-to video. Additional information, including a link to free software downloads, can be found by clicking the Help button on any page of this website. The OverDrive Media Console App is also available for free download from various app providers including the apple app store and the Google Play store. This app can be installed on many mobile devices and allows users to download content directly from the Sunflower eLibrary site to their device without the need of a computer to complete the transaction.
All PWRL locations, including libraries in Alma, Alta Vista, Eskridge, Harveyville, Olsburg, Onaga, St. Marys, and Westmoreland, have computers with high speed internet and WIFI that patrons can use for free! If you're ready to give digital eBooks and audiobooks a try but don't have a computer or internet access you can do it all at the Library! Patrons may read or listen to eBooks or audiobooks at the Library, or bring their mobile devices and transfer checked out items to it.
This new service will allow PWRL to add thousands of popular digital items to the Library's collection. Sunflower eLibrary also gives easy access to a huge collection of free public domain titles and don't count against patron checkout limits. We are very excited to be able to offer this new option to our patrons!
If you don't already have one, come get your Library card today! Your card is the key to gaining access to the over 100,000 physical items the Library has available to borrow through PWRL's online library catalog, as well as around the clock Internet access to the new digital collection!
To explore this new resource, visit the Library website at www.pottwab.org and click the link for the service or visit the Sunflower eLibCopyright 2010-2012 Pottawatomie Wabaunsee Regional Library All rights reserved. Headquarters: 306 N. 5th Street, St. Marys, KS 66536 - (785) 437-2778 Comments on this web page? send mail to: pwrldr@gmail.com Last update: 03/31/2020 Web Design and Development by Patti Peterson rary directly at www.sunflowerelibrary.org. For more information about the digital eBooks and audiobooks, or any aspect of library service, call the St. Marys Headquarters Library at 785-437-2778 or go to the Library website address listed above.
###